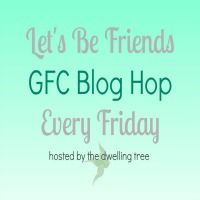 Hi Friends! It is time for the Let's Be Friends Blog Hop #4.



I love using GFC to connect with other blogs. I think it makes it so easy to follow along with blogs I love. That is why I am making it the focus on this blog hop:).
If you are interested in co-hosting this hop with me in the future, please visit
here
. I would love to welcome on new co-hosts!



Ok, the rules are simple:

1. Follow your host via GFC

2. Follow your co-hosts.

3. Visit some new friends. Visit 3 new blogs and follow via GFC and say hi!
4. Promote the hop by linking back or placing the button on your page.
Meet this weeks co-hosts!

Check out this month's featured sponsor:
"Sign up to take our 30-day Mom Makeover Challenge and receive a month's worth of devotions tailor-made to the demands of motherhood delivered straight to your inbox. Sign up here."